Molino Del Rey 2014 with Paul Fox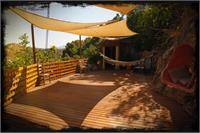 Sun 10th Aug 2014 to Sun 17th Aug 2014
08:30 to 18:00
£250 deposit paid below

Plus taken to Molino Del Rey in Euros:
585 Euros Shared Room | 760 Euros Single

Join Camyoga teacher, Paul Fox, at this stunning yoga retreat for a week of yoga practice. Paul will be offering a dynamic class in the morning session, based on vinyasa flow or modified ashtanga yoga to suit all levels of students. The late afternoon yoga session will focus on a restorative practice and exploring the more subtle elements of yoga practice, including pranayama, meditation, mindfulness and some of the simple philosophical ideas that underpin the yoga tradition.
Paul is an experienced facilitator of yoga holidays - this will be his 10th - and will aim to ensure that everyone in the group gets exactly what they need on the mat as well as having a great holiday.
Molino Dey Rey is a highly sought after destination, and is rated as one of the worlds best yoga retreat centres. Their beds are allegedly the most comfortable beds in spain!
As well as yoga, Molino del Rey is also very well known for its massages and spa treatments, and hiking and hill walking. They have their own caves, and a magical sea water system swimming pool.
A spring of the river "Rio Grande" is born at the entrance of Molino Del Rey. From it the purest of waters pour through the yoga centre, offering bathing facilities whilst surrounded by the wonderful fragrance of mountain flowers.
There are a range of excellent massage treatments available every day, and two meals a day all included in the price (post morning yoga brunch and dinner). flights, travel, and additional therapies not included.
Book now
---